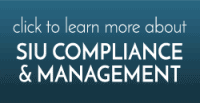 Results of a recent study suggest that one in five American adults – a figure representing 45 million people – say they consider defrauding insurance companies to be acceptable in certain circumstances. Specifically, responses showed a decline in the number of insureds nationwide who think it's ethical to misrepresent facts on an insurance application to lower premiums or to secure payment for an uncovered loss, file a claim for damage that occurred before an insurance policy's coverage term, or inflate a claim to cover a deductible. In fact, a full 76 percent of respondents admit that they're more likely to commit insurance fraud during times of economic downturn.
Once fraud is determined, we follow-through to the arrest and prosecution stage. This may include restitution. See our News page for more information about our arrests and prosecutions.  
PARTNER WITH SKILLED INVESTIGATORS
Statistics show that insurance fraud already costs American companies more than $80 billion a year and these changing attitudes certainly won't help. Fortunately, statistics also show that when insurance providers partner with skilled investigators who specialize in insurance fraud, their claims-associated financial losses are significantly reduced.
The Brumell Group conducts thorough investigations of insurance claims of all types, providing written and visual documentation that helps insurance providers better determine the validity and compensability of claims and protect themselves and their clients from costly fraud and abuse. Our investigations are proven to reduce claims payouts or eliminate them altogether and to bring about faster settlements, saving insurance providers both money and valuable time. We also provide ongoing SIU management and compliance services as well as continuing education courses to help keep your staff up to date on industry trends, changes and legislation.
Some of our clients may have already established a valued relationship with an investigations company for specific regions, for this purpose, Brumell Group has established a Provider Management (Vendor Management) Program which allows our clients to continue those relationships while maintaining our high standards in investigation protocols, licensing, liability insurance, and ethics.
Our insurance investigations cover:
Investigation into all aspects of accidents which include surveying and photographing accident scene, locating and interviewing witnesses, and background into previous accident history relevant to the scene. Experts and engineering specialists are utilized.
Discreet canvass of the claimant's neighborhood in an effort to conduct inquiries of the claimant's day-to-day activities. Can be used as a prelude to surveillance.
Recorded interviews conducted to investigate compensability or to establish subrogation. Records, releases, photos, audio and/or video obtained. The Brumell Group employs dual-licensed field adjusters. (Transcription available.)
Research of the claimant's past and present assets in relation to the claim.
Profile or background information on an individual obtained through numerous database and/or local searches to assist in determining the history and character of the claimant. Due diligence may apply. (For further investigation, see Database Searches/Dossier information below.)
Conducted by a Certified Fraud Examiner who reviews all documents and information related to a claim to evaluate and detect red-flag indicators of fraud. A comprehensive report detailing this evidence is completed and presented with recommendations on how to proceed with the claim. The review may identify that additional investigations are needed or it may identify that enough evidence exists to present the claim to law enforcement authorities for possible prosecution. Often a claim can be successfully denied based on the fraud defense identified in the report.
On Site investigations to verify and canvas the facility itself, identify information and/or possible affiliation with other clinics. Through these inspections we can gather and identify solicitation and brokering, document and verify all equipment located within the premises, confirm the patient's visits, and their frequency, obtain copies of sign in sheets, appointment records, files and file notes, and verify all personnel as well as medical and state licensing information.
A surveillance investigation can effectively identify and document the clinic's hours of operations, their employees, physician and runners and their activities during the normal course of business and document the patient's arrival and departure times.
Continuation of Disability Check (Alive & Well Check)
Personal contact with claimant to determine any significant change in lifestyle (death, marriage, etc.). Neighborhood canvass, etc. also conducted.
Database Searches/Dossier (Statewide/Nationwide)
Extensive investigative database research including but not limited to civil, criminal, motor vehicle, assets, judgments, claims histories, and social networks to obtain up to 30 profile items on a subject/claimant. Research includes local records searches by county.
*Availability may be limited in some states.
Liability (All Casualty/Bodily Injury/GL)
Investigation of accident in all areas of liability. Investigation includes: background (claim, work and asset history), interviews of witnesses, and surveillance to determine current activities and physical capabilities of the claimant.
Life Insurance Investigation
Investigating acts of internal, agent, applications, renewal, underwriting and claim fraud, including contestable death.
Medical Facility Canvas (Hospital/Pharmacy/MRI)
Medical history research to determine if claimant has received treatment from local facilities. Retrieval of documentation may require medical release.
Investigation and research into claimant's financial and claim history. Also, current activities are documented to determine the validity of the claim.
Property (Fire/Theft/Burglary/Vandalism/Homeowners Insurance)
Investigation and research, including cause and origin, to determine the validity and compensability of the claim. Also includes claimant's financial stability, inflated claims, staged burglary, fabricated evidence, arson and false or misleading information/ documentation. Services may include, but are not limited to recorded statements, Examinations Under Oath (EUO), scene investigation and witness or neighbor statements.
Utilizing an industry-specific database we identify any and all online social network profiles related to a claimant. Online postings can be preserved and utilized to further other investigations and/or for evidentiary purposes in ongoing litigation.
Social Network Investigation
We identify any and all online social network profiles, monitored at set intervals related to a claimant. Online postings can be preserved, creating a timeline of events, past, present and future. These can be utilized to further other investigations and/or for evidentiary purposes in ongoing litigation.
Stationary/Covert Cameras
When surveillance is not practical on a case we have an assortment of stationary/covert cameras (interior/exterior) that we can deploy to record a subject's activities 24/7 for several weeks at a time or we can remotely monitor the activity.
Surveillance is utilized to document the subject's/claimant's activities using state of the art covert, photographic and/or video equipment.
Surveillance is utilized to determine claimant's present activities and physical capabilities in relation to the claimed injury using photographic video equipment. Also, background research is conducted relevant to past and present claim history.