Effective Use of Social Media in Investigations
Social media is quickly becoming a highly valuable tool for a wide range of investigations. As new social media sites keep coming on the scene, there will continue to be a vast amount of information available across the country. From law enforcement to employers, investigations are becoming more streamlined and efficient.
Download our FREE White Paper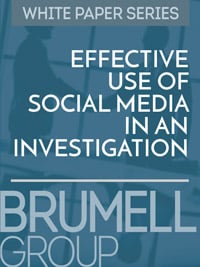 "Effective Use of Social Media in an Investigation" to discover why this tool is so valuable.
In this White Paper, you will learn:
Why social media is such a valuable tool for an investigation
How your company can take advantage of social media
Industry statistics on current use of social media for data gathering
And more!